Once upon a time there was girl named Ariana Maria Grande-Butera, Miss Butera if you're nasty. She was a princess in the land of pop. Miss Butera sang and sang and love and love but then her heart kept breaking. She was sad and her loyal subjects send her so much love. Until one morning, Miss Butera woke up, look in the mirror and said: "Yup, I'm that bitch." It was then when we saw a princess become bad bitch. Then she gave everyone "7 Rings."
Click here for the reviews of "Thank u, Next"|"Imagine"

Who woulda thought it'd turn me to a savage?
"7 Rings" was released on January 18th after weeks of speculation. It's an R&B pop song that takes part of "My Favorite Things" from the musical "The Sound of Music." Because of this, I really hope someone makes an Dame Julie Andrews and Ariana Grande duet.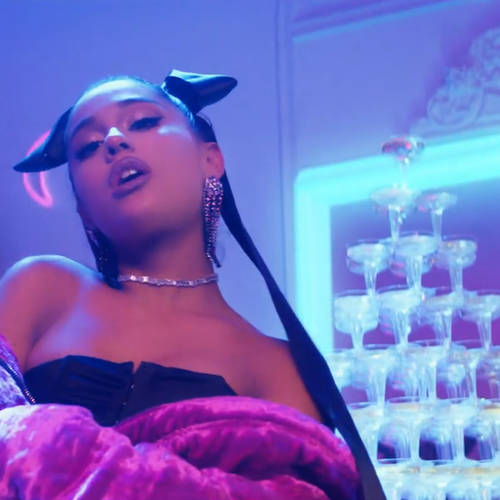 The song is an ear-worm. It will get stuck in your head. The lyrics are very self-aware and iconic lines. It's pretty much just Miss Butera talking about how she can enjoy the finer things in life because she's rich. It's a song that you can listen to that will make you feel like a rich bitch. I listened to the song on my way to work and I just felt like a rich hoe.
The entire song is based on the events that inspired after her public breakout with her ex Pete Davidson. Miss Butera went out a bought all of her friends rings. She happened to buy seven rings. Hence the title of the song being "7 Rings." Because of this, it's safe to sat that the common theme of her next album "Thank, u next" is going to be growth and just celebrating friends and yourself.
The video was also released at the same time as the single and it's just one big party. It's like Miley Cyrus' "We Can't Stop" video met Demi Lovato's "Sorry Not Sorry" video in the upper east side and had a baby. That baby was the video of "7 Rings." The video is just Ariana and her friends having fun and celebrating life.
Verdict
"7 Rings" is an excellent song that is iconic enough to take your wig. I do wish it was a little bit longer but at the same time it's just long enough to where it's everything. The song hypes up Miss Butera as a pop icon as well as her upcoming album that we are patiently waiting for.
Rating: 4.5 out of 5
Leave your thoughts/tea in the comments below. Make sure you follow me on Twitter for more of that tea.