After watching "Final Destination," I thought it was fitting to watch the second film in this five-film franchise, or what I like to call Filogy. I'll work on a better title for the next review. Now, after what "Cruel Intentions 2" was, I lowered all expectation of this movie being any good. Fool me once, shame on you. Fool me twice, I'm on to you.
Click here for the review of "Final Destination"
You can't cheat Death. There are no escapes.
"Final Destination 2" was released in 2003, over three years from the first movie. It was directed by David R. Ellis ("Snakes on a Plane" and "Homeward Bound II: Lost in San Francisco"). David also directed the fourth installment, "The Final Destination." The only cast member to come back from the first movie was Ali Larter. Joining the cast for this installment in a starring role was A.J. Cook ("Criminal Minds") and Michael Landes ("Lois & Clark: The New Adventures of Superman").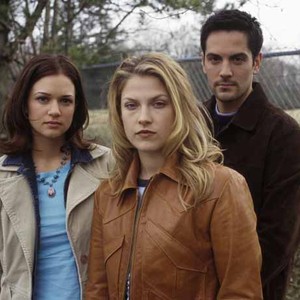 The casting for this movie was a little weird but it worked for the movie. The acting is good in the movie. It on the same level as what we got in the first movie. A.J., Ali, and Michael are the stand-outs, which is due in part for they have the most screen time. But meshed well together, especially A.J. and Michael.
The movie takes place a year after the event that took place in the first movie. Kimberly Corman (A.J.) prevents her and eight others from dying in a major and deadly car pile-up with a premonition. Because she's saved their lives, they must look out for each other as death is looking to take them out. In order to stay alive, Kimberly looks for help from Clear River (Ali) and Deputy Thomas Burke (Michael) as she tries to keep everyone alive.
I personally thought that "Final Destination 2" was a more well-rounded movie than what we got in "Final Destination." I got more invested in the characters. There was more of development for the characters and you got to know the character more. Now, this wasn't the case for the characters that
I really enjoyed the continuity that happen in this movie. It made both movie seem they were in their own little world. This world learned from the events that happened in "Final Destination" and are using these events to help keep everyone safe. This is the role that Clear brought to the film. She bridged the gap because "Final Destination" and "Final Destination 2." She's used her knowledge to help.
In the first movie, everyone thought Alex was crazy for having these visions about death. They treated Kimberly's visions as legitimate more. While I don't really like the character of Clear, her arc during this film were great. It did its purpose better than if it was Alex, who they killed off in between movies. With both Alex and Kimberly having visions, it would have created a problem. While it would have been an interesting problem, it would have been confusing.
The death in this film is my major complaint. While they are still real life things that can happen, they kind of get a little out of hand. They kind of has gotten a little laughable and outlandish. Like one death had a ladies head stuck in the elevator as it was moving and resulted in her being decapitated. While it's possible, it just kind of made you laugh. The first movie death were all things you can really see happening. These were a mixture of both. They were still produced wonderfully, they could have been handled better.
Verdict
"Final Destination 2" is a better and more rounded movie than the first. It has a lot more character development while also using the continuity to its advantage. It is sad that the death scenes aren't as good as they were in the first. They become slightly laughable in some instances. It doesn't hurt that film that much besides in making it a less serious horror film. This movie is also available on Netflix. I recommend it, especially when if you were a fan of the first movie.
Rating: 4 out of 5
Leave your thoughts/tea in the comments below. Make sure you follow me on Twitter for more of that tea.