During these troubling times filled with economic uncertainty and unbridled social woes, there are two things America needs right now: Lady Gaga and Ariana Grande. On Friday, May 21, Lady Gaga and Ariana released their collaboration from Lady Gaga's upcoming sixth album "Chromatica" to light into the world.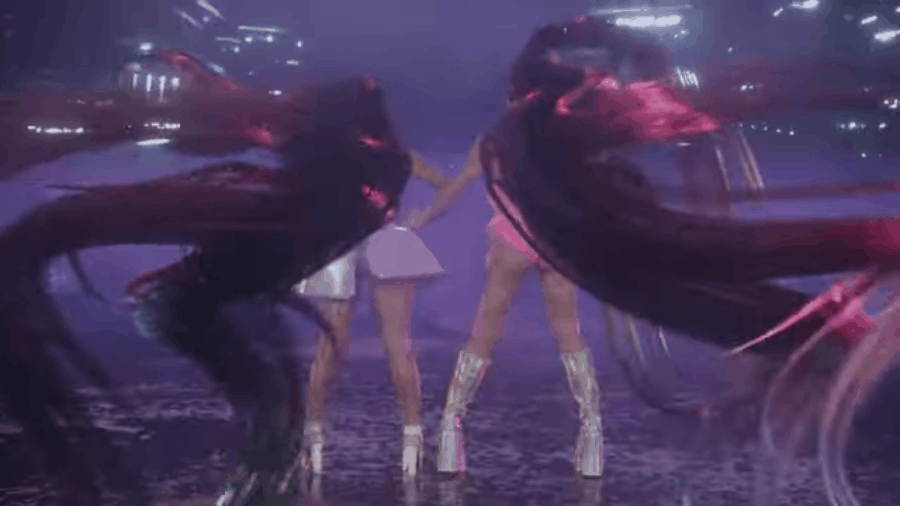 I'd rather be dry, but at least I'm alive
"Rain on Me" is a dance-pop song that was written by Lady Gaga and Ariana along with a lot of other people. There's a lot of writers on this song, like a lot of pop songs. The song came about after Gaga and Ariana had a conversation. This is also probably due to "Rain on Me" sampling the Gwen McCrae song "All This Love That I'm Giving."
"I sat with her and we talked about our lives. It's two women having a conversation about how to keep going and how to be grateful for what you do." Gaga told Paper magazine. She also hinted that she collaborated with Ariana by telling the magazine that she "collaborate with a fellow female pop star, who has similarly experienced immense trauma while in the public eye." Everyone saw past that hint because the internet happened. It wasn't confirmed until May 15th when Ariana and Gaga posted about "Rain on Me" on their social media.
"Rain on Me" could be considered to be the sister song to Ariana's 2018 single "No Tears Left to Cry." The song is about letting go of pain and just embracing it. Gaga said during her May 21 interview with Zane Lowe that the lyric "I'd rather be dry, but at least I'm alive, rain on me" was a metaphor for the tears and alcohol that she was using to numb her pain. Yep, this song is super deep, like all good pop songs.
Thoughts on the song
Honestly, I'm not huge on the song. "Rain on me" starting to warm up on me, but I still not a big fan. It reminds me of a song that you would hear at the end of the anime as the credits roll. I kind of wish they would let the beat drop more and let the little anime creature loose. That would make the song stand out more.
I can still admit that the song is a banger. "Rain on Me" is going to be the song of the summer. I also see this song becoming an LGBTQ+ anthem, especially with Ariana and Gaga's popularity and support of LGBTQ+. Besides the 90s anime feel to the song, it also reminded me of something that we would have heard on Gaga's first two albums, "Fame Monster" and "Born This Way." Especially with the spoken words on in the bridge. It's the Gaga that we've been waiting to have back
The vocals on the song are what you would expect from Lady Gaga and Ariana Grande. It feels like Ariana is holding back. There are parts, especially after the bridge, where you know that Ari would normally belt it but, the belting isn't there. There a start of it, but it just never takes off. You could say the same for Gaga as well. It's like they are trying to let each other shine and not overshadow.
The Music Video
The video for "Rain On Me" takes place in Gaga's "Chromatica" universe, which got set up in the video for her first single "Stupid Love." Taking place in the future, factions have dance battles to reign supreme and bring love into the world. There's no tie into the video for "Stupid Love," at least that I could tell.
Gaga and Ariana are dancing in the rain and looking iconic with their gangs. Gaga has a knife in her leg for reasons. She also cosplays as Ariana in the end. Spoiler: She nails it. The video is simple and just visually appealing. It works for the video, especially during this time of quarantine. I just wish I understood what is going on.
Verdict
Rating: 3.5 out of 5
While I'm not a massive fan of the song, I cannot deny that Lady Gaga and Ariana Grande's "Rain on Me" is a bop. The lyrics are deep and meaningful with an excellent dance beat that will let you keep on dancing until the world stops ending. I do wish that the beat was bigger for the song as well as the vocals didn't sound like both singers were holding back. The video is also very well done and is visually stunning. I do recommend checking out the video and the song. It's worth the listen, especially for your summer playlist.
Leave your thoughts/tea in the comments below. Make sure you follow me on Twitter for more of that tea.