It's been about a couple of months since we left normalcy. During that time, a video game character has been allowing us to enjoy life and stealing money from us. The worst part about it? It's not even real money. Today, we are going to talk about the Nintendo Switch video game "Animal Crossing: New Horizons." Welcome to "Pop Project Explains."
"Animal Crossing: New Horizons" is the fifth title in the life simulation series. It's like the popular game "The Sims" but with animals. I'm not going to dive into the details and explain the franchise more than that. For this edition of "Pop Project Explains," I'll be explaining what the hell is going on in the new game.
So "Animal Crossing: New Horizons" follows world-renowned business owner Tom Nook, a raccoon who gets you to come to his private island to start a new life for free. With his help of "helpers," Timmy and Tommy, you travel and set up camp in the middle of nowhere. Wondering if you are going to die at the hands of three anthropomorphic raccoons, you get forced to make friends with your fellow islanders before you are appointed head of the island without any say. You become Tom Nook's bitch.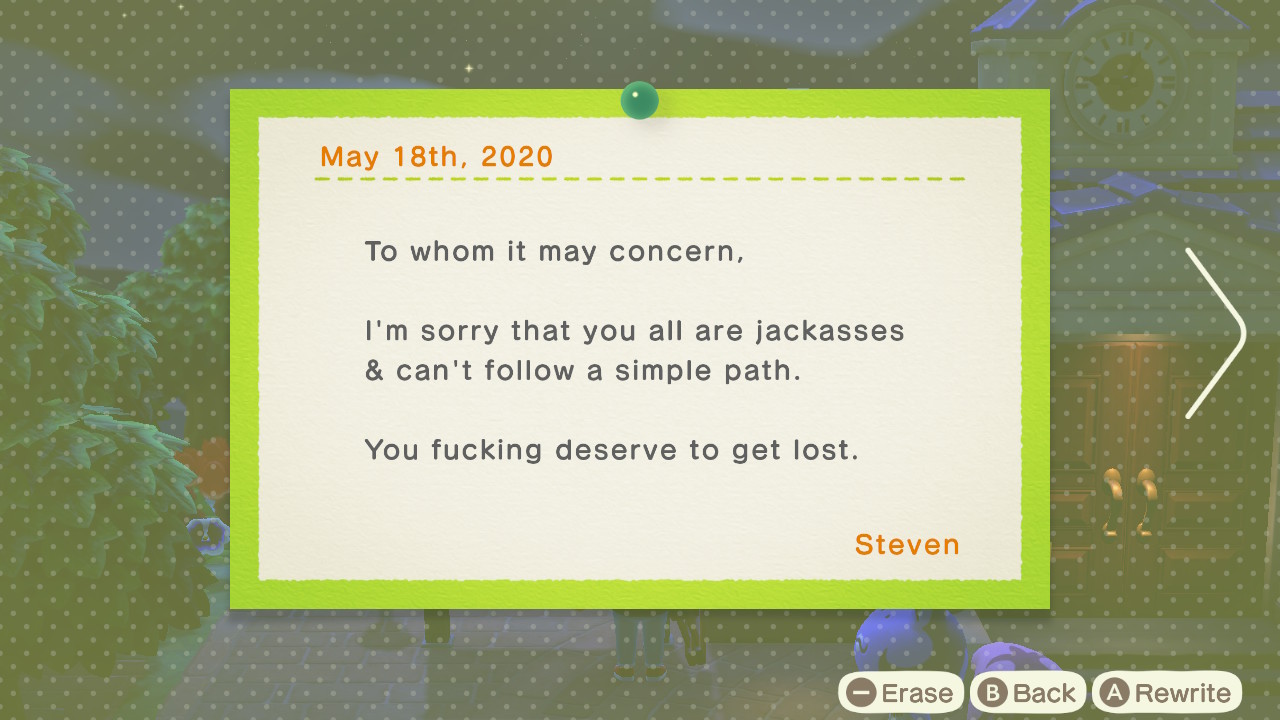 Tom has recruit people to your island by having you spent money that you don't have on it. What do the other islanders contribute? Jack shit because they are animals. Tom pretty much put you to work right away and pays you less than the minimum for too much work. Again, you are his bitch. He pays for fishing, bugs you catch, weeding you pull from the island, etc. What does Mr. Nook do? Jack shit because he's an animal. Sitting around doing nothing is a lot of hard work. She will tell you things and then tell you the complete opposite. I don't know if she took too many shots in the head from "Super Smash Brothers Ultimate," but she needs to get it together. She isn't helpful.
You need to watch your back when it comes to Tom Nook. I'm pretty sure that he's in some sort of gang or something like that. There's just something sketchy about that raccoon, especially with those two little raccoons. They talk in unison and run the island store. Tom Nook is running a monopoly. He has all in hand in the cookie jar of "Animal Crossing." He is the Donald Trump in Raccoon.
The game is fun, but there's a lot of things that we need to be explained to understand what the hell is going on entirely. Pretty much, we need free press in "Animal Crossing" so we can expose Tom Nook and his criminal activities. Honestly, I would love to know the backstory of Mr. Nook and his gang empire. We need to know the truth! I hope this explains what "Animal Crossing: New Horizons" is.
Leave your thoughts/tea in the comments below. Make sure you follow me on Twitter for more of that tea.